Germany's new ambassador to China, who was previously a senior adviser to Chancellor Angela Merkel, has died, less than two weeks after assuming his post, the German government said on Sept. 6.
Germany's Ministry of Foreign Affairs announced the "sudden death" of Jan Hecker, 54, in a short statement in the early hours of Sept. 6. It didn't give details of when or where Hecker died or his cause of death.
"There is no indication that the death was related to Ambassador Hecker's political function," Andrea Sasse, the foreign ministry's spokesperson, told reporters, declining to elaborate further.
Hecker's prior roles included serving as a former Interior Ministry official, a judge at Germany's Federal Administrative Court, and the chancellery's refugee policy coordinator. He had served as Merkel's foreign policy adviser—an influential, but low profile, position—since 2017, prior to taking the ambassadorial role.
Merkel said Hecker's death "shocked me deeply."
"I am mourning an esteemed long-time adviser with deep humanity and outstanding expertise," she said through a statement released by spokesperson Steffen Seibert, stating that she was "full of gratitude" for their collaboration over the years.
U.S. national security adviser Jake Sullivan also professed shock at Hecker's death.
"He was a great statesman and a good friend and partner to the United States. He will be missed dearly," he wrote on Twitter on Sept. 6.
German and European Union flags flew at half-staff on Sept. 6 at the German Embassy in Beijing.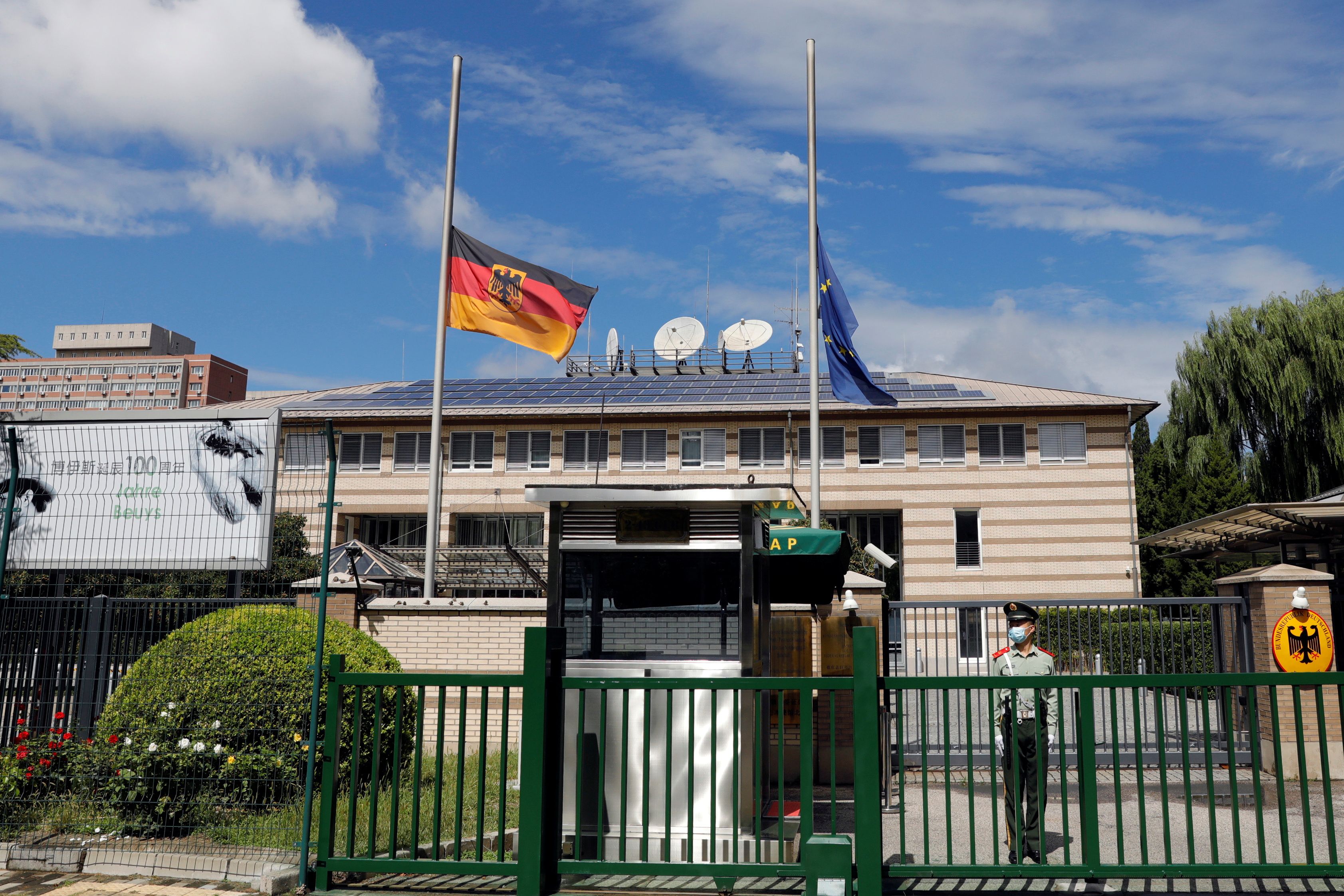 Hecker arrived in China on Aug. 1 as the country's 14th Chinese envoy and presented his credentials to China's foreign ministry on Aug. 24, according to China's Ministry of Foreign Affairs. He said at the time that his goal was to "contribute to the stable development of the Germany–China relations over the long term" and to "strengthen dialogue and cooperation" between the two countries, according to a statement widely cited by Chinese media.
Chinese foreign ministry spokesperson Wang Wenbin expressed condolences over Hecker's passing and said Beijing would provide assistance to his family and to the German Embassy.
Hecker "had been working actively to promote China–Germany relations since assuming his post," Wang said at a Sept. 6 press briefing in Beijing.
He had appeared "happy and alright" by a guest on the night of Sept. 3 when he was hosting a cultural event at his Beijing home.
Frank Rückert, Hecker's deputy, will assume his duties, according to Germany's state-owned broadcaster Deutsche Welle.
Reuters contributed to this report.
562 Views
(Visited 12 times, 1 visits today)