The U.S. Department of Defense accused Beijing of implementing a revised maritime law on Sept. 1, calling it "a serious threat" to freedom of navigation.
The United States joins several nations pushing back on China's broad and vaguely defined, territorial claims in the South China Sea.
Pentagon spokesperson John Supple said on Sept.1, "The United States remains firm that any coastal state law or regulation must not infringe upon navigation and overflight rights enjoyed by all nations under international law."
Supple added that China's "unlawful and sweeping maritime claims … pose a serious threat to the freedom of the seas."
On the same day, State Department spokesperson Ned Price said at a press briefing that the United States follows the principle of a "universal set of rules for all countries, large and small, to include in the maritime domain." He expressed his continued opposition to China's "unlawful, excessive, maritime claims."
One of China's claims is the "9-dash line," which stretches far beyond its borders into the South China Sea.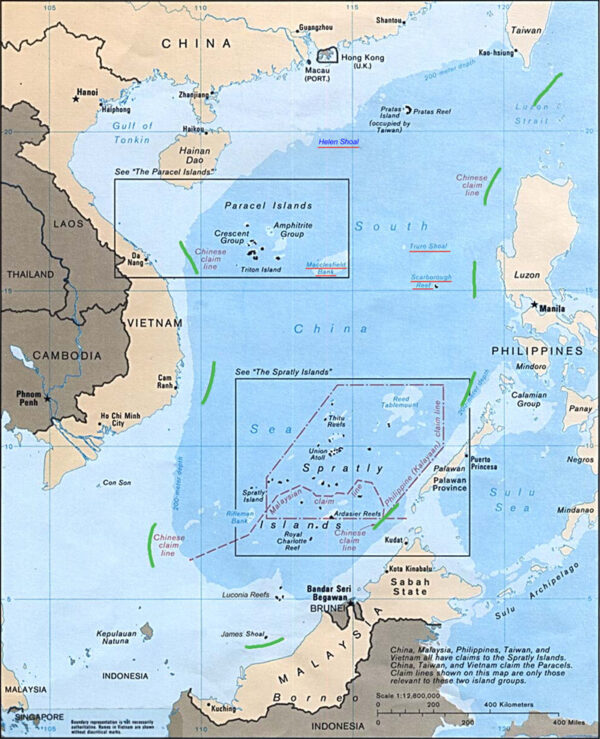 In September 1983, China introduced a maritime traffic law for the first time. The latest April update came into effect on Sept. 1. It required all foreign vessels entering  waters where Beijing makes territorial claims to report identification details to the Chinese maritime authority.
New regulations apply to submersibles, nuclear vessels, and ships carrying potentially dangerous cargo, such as oil, liquefied gas, and other toxic chemicals.
China's state media Global Times, in an Aug. 29 article, suggested that military vessels entering China's territorial waters without advance notice would be considered "serious provocation" and would face being dispelled by the Chinese regime's military or stronger punishment.
However, the revised maritime law has sparked global outcries.
In Australia, the Defense Department rebuffed China's new requirements for foreign vessels, according to The Australian Financial Review. The department stressed in a statement it is important that any such requirements should be consistent with international law, particularly the United Nations Convention on the Law of the Sea.
"Australian Defense Force vessels will continue to exercise freedom of navigation, in accordance with international law," added the department.
In Japan, a Sept. 1 article in The Sankei News warned that Japan should stay alert to China's new move. Given China's stepped-up efforts on territorial expansion, the report warned that China could possibly seek confrontation with Japan over the Senkaku Islands because of collusion between China's maritime administration and its coast guards.
China's new legal requirements for foreign vessels are creating what some fear is a "ticking time bomb" for conflict in the South China Sea, said Taiwan's Taipei Times.
214 Views
(Visited 2 times, 1 visits today)